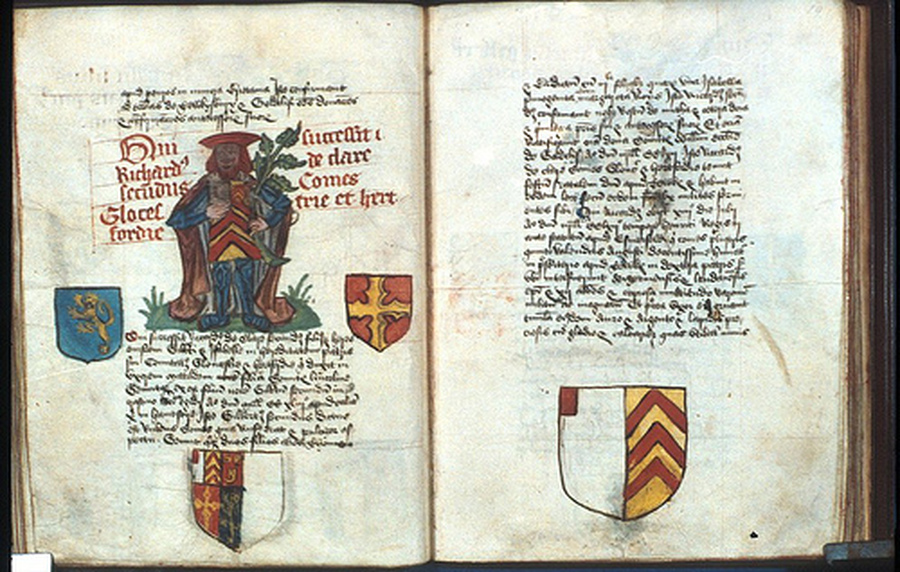 The de Clare Family
Standon's lords of the manor during the Middle Ages were the de Clares. This family were Normans, who fought alongside William the Conqueror at Hastings in 1066. The family were given the lordship of dozens of manors - including Standon. They lived at Clare in Suffolk, so their family name was 'De Clare'.
Roger de Clare was the youngest son of Richard de Clare and was born at about 1118. He married Matilda, daughter of James de St. Hilary. He was the brother of Gilbert de Clare, Lord of the Manor of Standon in the twelfth century. Gilbert de Clare gave the church and lands of Standon to the Knights Hospitallers who were a group of monks. The school badge is adapted from the de Clare coat of arms.
When Roger was about 40 years old he argued with Thomas Becket, the Archbishop of Canterbury. They argued that some land in Kent should be given up. Roger refused to give up the land or to listen to any messengers that were sent by Becket. He even made one of the messengers eat the letter he brought to him!
Roger de Clare died in 1173 and his son, Richard of Clare, inherited his land.
The School
Until 1974 the school occupied an old 16th Century building in Standon. It had been built on land where the Knights Hospitallers had created a hospice around 1135.
Sir Ralph Sadlier was given the land in 1540 and continued the school. It was originally for boys only but in 1870- it officially became a school for boys and girls.We can trace back the names of the masters (teachers) as far as 1723.
In 1971 the school changed its name to Roger de Clare Voluntary Controlled Church of England First School and in 1974 moved to its present building.
In 1990 our Nursery opened and in 1996 a new Key Stage 2 area was built. Since then we have concentrated on making our outside learning environment more interesting by developing the gardening area, the wildlife meadow and the pond area. All Key Stages now have canopies to enable outdoor activites to take place whatever the weather.